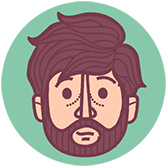 I'm an art director, animator, and illustrator with over ten years of network and agency experience.
I make motion graphics, illustrations, print collateral, logos, animation, posters, album covers, and the occasional jingle.
I love collaborating on creative teams and getting my hands on multiple project elements.
Select Partners:
Adidas, CBS Interactive, Chevrolet, France Telecom, FremantleMedia, HP, MSN, NBCUniversal, Paramount Pictures, Reebok, Samsung, Scripps Networks, and Yahoo.